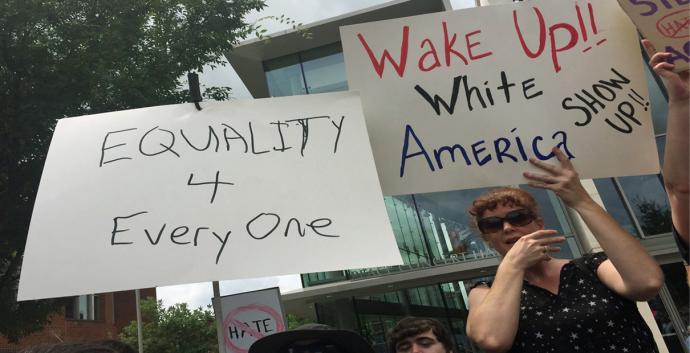 Photo courtesy Melanie C. Gordon, Discipleship Ministries
United Methodists were among those present at a rally decrying racism in Greenville, SC on August 13, 2017.
United Methodists experience and observe racism regularly.Sometimes it is overt, like the events in Charlottesville, Virginia, August 11-12, 2017, when Heather Heyer was killed and 19 others injured when a white supremacist intentionally struck them with his car.Other times, it is more subtle. A nasty comment from a coworker or an assumption that crosses our mind and grieves our heart.
Those in the United States live in a culture permeated with racial bias. We may not be able to avoid racism, but we don't have to accept it. If God's kingdom is to come, and God's will is to be done on earth as it is in heaven, things need to change.
We can be the agents of that transformation by changing our beliefs, changing our actions, and working to change the world.**
About Us
A great place to gather together as a faith community and give worship to God.
The Cherry Valley United Methodist Church is a wonderful faith community in which all are welcome. Together we are answering God's call to participate in the mission that God has called us to. Whether you are a first time visitor or a returning member, we encourage you to look around and see what God is doing through our church; both in our community and throughout the world.
We hope that you will join us in God's call to make disciples of Jesus Christ for the transformation of the world.
Worship
We are a medium-sized Protestant congregation that worships in a beautiful 150-year old building. Our Sunday morning worship focus is to reaffirm our relationship with God, reconnect with one another, and open ourselves to the leading of the Holy Spirit. The sermons are grounded in scripture and preached in a way that enables us to apply the Biblical message to our everyday lives.
The music is a blend of contemporary, upbeat worship choruses and traditional hymns. We have an adult choir, chime choir, and other special music throughout the year. The music is one aspect of worship that reminds us where our primary focus needs to be—on God, whose divine love, saving grace, and enduring faithfulness enable us fully embrace our desire to be disciples of Jesus Christ.